Happy (belated) Solstice!  Our little family just spent 9 days at Mar de Jade (Jade Ocean) playing, resting, and most importantly volunteering my time to support the fantastic work this place does.  If you are curious to get the whole picture of Mar de Jade and it's projects, check out their website.  My intention was to go observe, connect and support their very unique non-profit Montessori/Waldorf school.  It turned out that they also were in need of a yoga teacher at the retreat center – so I also got to teach yoga every morning while I was there.  My students were folks that worked at the retreat center and other guests.  The group that was there at the retreat center was a group of Mariachi teachers. Many had never done yoga before – so it was very fun to introduce them to this fantastic practice!  For me this was a perfect storm of all my passions – being in a spiritual center that lives very connected to nature, spending time with my family, teaching yoga, traveling and sharing my passion for Montessori and the great spiritual art of being with children in an elevated, conscious way.  Amazing!
We were able to go thanks to the generous support of many many people – so I send a huge thanks to all who donated time, money, positive vibes to help our trip be manifested!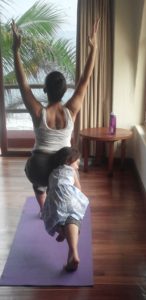 I wanted to just write a bit about the trip here, for those who are interested in how it went!  After a long travel day to get there we spent a few days settling in and getting to know everyone.  This place is spectacular.  It manages to be beautiful, humble and extremely nourishing on all levels.  Usually when we are on "vacation" somewhere, staying someplace beautiful, I have a hard time fully enjoying it.  I often think "Is my presence here contributing to the destruction of this natural area? Is my tourism here good for the local people or is it damaging in some way?"  These underlying questions make it hard to relax.  It was a revelation, then, to be able to spend a few days "arriving" and feeling 100% clean and clear about spending time at this place.  We were being given room and board in exchange for my volunteer work, but if I had been paying I would feel fantastic about where my money was going.  The retreat center is beautiful with three amazing yoga studio rooms, sweet pools, a gorgeous open air ocean front common area, and even a little spa.  The picture above is the view from our very sweet room.  The building is the "temple" studio. Inside it's beautiful floors, and veiws of the ocean, and even an amazing painting of the Buddha on one wall.  The meals were DELICIOUS!  The food was healthy, fresh picked and cooked to satisfy even the major foodie.  Much of the ingredients come from the Organic farm that is one of the projects of Mar de Jade.   Our presence supported a place that was built in a very green fashion and a family whose work enriches and uplifts the local community in many many ways.  Laura, the original founder and matriarch of the family who owns and runs Mar de Jade is even mentioned in the wikipedia article about the local town (Chacala). So after a day or two of swimming in the ocean, playing in the very kid friendly pool, eating amazing food and doing yoga in beautiful, energetically vibrant studios  – I was ready to get to work!
I spent two days observing the classrooms, and meeting with the teachers and administrators of the school in Chacala.  El Jardin's website has some great pictures and explains the mission of the school well. What a huge task these folks are undertaking!  The school is run almost completely by donation – most of the students are there on full scholarship.  The school serves – as Montessori's first school did – the poorest of families.  In this humble place the teachers are dealing with many unique difficulties.  On top of this, they have made it their goal to experiment by attempting to combine Waldorf and Montessori methods (and are open to other influences as well!).  All of this in a remote area where, while it is beautiful, is difficult to lure teachers to come and stay for many years.
The school was like an oasis in the midst of Chacala.  It was clean, green and made with loving care for the children who would be spending time there.  This board states the school's mission: The nurture emotional and social intelligence, to develop creativity and to reach academic excellence.  It was wonderful to see these kids floating freely around their humble classroom doing their work and enjoying each other.  It was fascinating to see the influence of Waldorf, and to step into this experiment of how to merge the two very different pedagogies.   After getting the lay of the land I had the great pleasure of spending the next four days, after school, giving what support I could to the teachers and administrators of this sweet, super special school.  Here is the letter that they have written to thank my donors for helping me get to them:
Thank you to everyone who made it possible for Olynda to come to Mexico to volunteer at El Jardin!
She ran a very successful training with our teachers on Emotional Intelligence and offered them lots of practical information and advice about how to enrich the Montessori work. She also offered those of us that direct the school, extremely valuable input and recommendations, both on a concrete level and on a big picture scale. We are excited to start implementing some of her suggestions right away! Olynda's passion and commitment to whole-child education is inspiring and aligns very closely with the values that we hold at El Jardin, it has been a joy to work with her and we hope she returns to volunteer again!
Find out more about the projects that you contributed to:
Videos:
With appreciation and gratitude,
Angelica, Jorge and Laura
Mar de Jade
A deep bow of gratitude for everyone who made this possible.  Here are a few more pictures 🙂 Enjoy!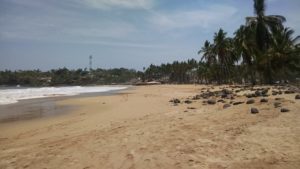 Here is the path I got to walk between the school and Mar de Jade retreat center 🙂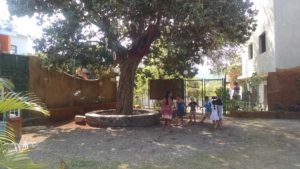 A sweet singing, walking game.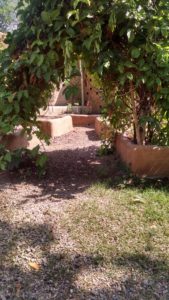 The garden at the school 🙂
Save