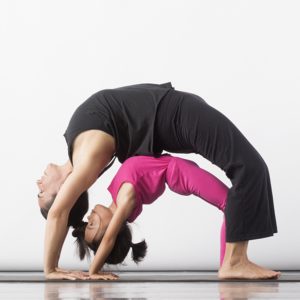 Friends,
It's crazy that I haven't posted anything for nearly 4 months!  I'm sad to have slacked here – but it is for good reason.  Let me tell you what I've been busy with that has kept me from blogging.
Yoga with your 2-6 year old
I'm writing a book. OK, well, my daughter and I are writing it together.  It is a book about doing yoga with your 2-6 year old. This picture is from the amazing photo shoot that we did this summer.  We had 9 local families participate.  It'll be a book helping folks engage with their littlest ones in a way that is safe, fun and health promoting 🙂 So many of my "writing hours" have been and will continue to go to that this year. If you know you want a first round copy of this you can donate on my gofundme page that we made to help cover the costs of doing this right.  There is more information on the gofundme page. Yes, you'll be the first to know when it is in print!
Free Yoga Videos for You… to actually practice with
I've also been spending some time building a youtube channel(OlyndaYoga) full of short and long and easy and challenging videos for you to pick from.  These videos are really for you to practice with.  Many of the videos I've seen on line look really pretty, but don't have very much (or any) alignment mentioned.  My videos are instructional videos that I've made with an eye towards keeping you safe, inspired and connected in your practice even when you need to practice at home.  It feels great to give you the ability to practice more, and to connect in this way.
Insta-Olynda
With most of my creative energy and time going into these outlets I may be posting to the blog only intermittently.  To stay connected, I've started a Instagram account where I plan to be posting regularly.  You can follow me there at OlyndaYoga.   And you can always sign up for my monthly newsletter if you don't already get it.