Springtime is here! This is a time of year for splashing in puddles and getting fresh air in your home. It is also a time that is vital for good clean eating. In Ayrveda, this is the time of year for cleansing.  Instead of fasting, a great way to support the body is to eat easily digestible nutrient – dense foods.  This is my new favorite meal that fits both those requirements while also being * delicious * and easy to prepare.
Year-round goodness
I'll admit, that we actually eat this meal about once a week in our home – year round. It's taken the place of the mac n cheese night.  It is actually just as easy as mac n cheese from a box – but insanely healthier.  This is a mash up of two slightly altered recipes from different Ayurveda cookbooks.  The Kichadi recipie is an amended version of one in A Life of Balance: The Complete Guide to Ayurvedic Nutrition & Body Types With Recipes by Maya Tiwari.  The Pressed Greens and dressing is inspired by The Everyday Ayurveda Cookbook by Kate O'Donnell.  Both amazing books. The first better if you really want to geek out on Ayurveda as a whole.  The second has amazing recipes and great background on why they work.
Parents 
Yes! There is a high chance your kids will eat this!  My daughter loves the kichadi and asks for it all the time. She doesn't love the texture of the Pressed Greens, so I usually make her a fresh kale salad. You may want to substitute plain butter for ghee if your kids don't love the taste of ghee. My little one is four and a half (already!) and we have used this meal in particular to talk about nutrient dense foods.  She loved learning the phrase "nutrient dense".  I told her it was a fancy way of saying healthy.  We then went on a hunt through the kitchen looking for "nutrient dense" foods.  This can be a fun way to teach your kids what foods really feed them and which are empty nutritionally.  Make a pile on the kitchen table of all the "nutrient dense" foods you can find!  Or make a list together! Greens, berries, beans, eggs, nuts, carrots…. delicious!
Kichadi
1 cup rice – basmati is traditionally used, I use an organic white rice that I can get from Costco
1/2 cup – Organic Mung Dhal
5 cups –  water or more as needed
1/2 teaspoon – Turmeric powder
Ghee or butter
Start by rinsing the rice and mung beans till the water runs clear.  I put them all in a strainer and run water through while massaging (and being massaged by) the beans and rice.  Put these in a pot with the water and turmeric bring to a boil.  Bring down to a simmer and wait till rice/beans are tender.  You can add the ghee and butter to your serving once it's in your bowl.
Pressed Veggies
A mixture of greens
Carrots
Here is what I do.  I buy 2-3 kinds of fresh greens: kale, chard, bok choy, dandelion greens or spinach and I take out the stems if appropriate and chop them up.  The I take however many carrots I'm in the mood for – lets say 1 cup of chopped carrots.  Sometimes I add in Red cabbage. I put about 5 cups of all these veggies in a big pot with 2- 3 Tbs of water over medium heat with a lid on.  I stir every few minutes.  After 10 minutes they are done!
Dressing
1 lemon
Olive or Safflower or Sunflower oil.
Squeeze the juice from the lemon into a jar, then add that same amount of oil.  Add a little salt, cover and shake.
All together now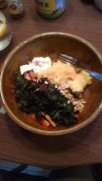 In a pretty bowl, spoon out some kichedi, top with veggies, pour some dressing on top, add a dollop of butter or ghee and you have a yummy, nutrient dense, easy to digest meal.  We like to add pumpkin seeds, sunflower seeds, goat cheese, cultured veggies… whatever we can find!
Let me know if you try this out and how you like it!  What are you doing differently?